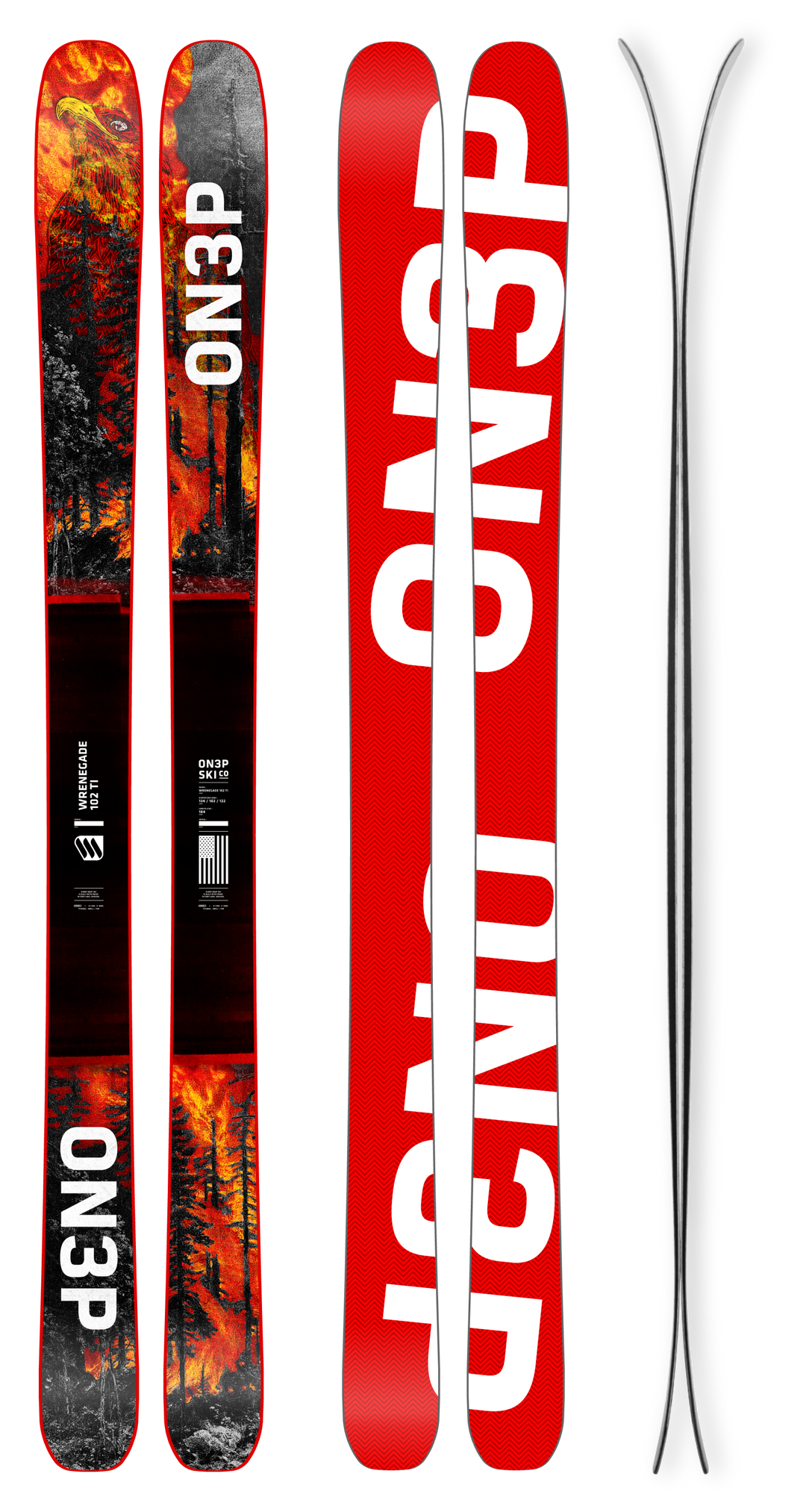 Wrenegade LTD
---
In stock, ready to ship

Inventory on the way
| MODEL SIZE | SPECS | TURN | EE | WT |
| --- | --- | --- | --- | --- |
| 102mm 179cm | 133/102/122 | 21.3m | 146.3 | 1.99 kg |
| 102mm 184cm | 134/102/122 | 21.9m | 151.0 | 2.15 kg |
| 102mm 189cm | 135/102/123 | 22.6m | 157.8 | 2.20 kg |
| 108mm 184cm | 138/108/126 | 26.8m | 153 | 2.22 kg |
| 110mm 186cm | 138/110/126 | 27.0m | 155 | 2.25 kg |
 The Wren mold is going into an early retirement this year, so this is it - the last of a dying breed.

You're the best skier on the mountain, you say? The Wrenegade is only for the most committed, maniacally-driven speed demons, and that's exactly why we make so few of them yearly - ya'll are nuts, but that's also why we love you.

Featuring our proprietary bamboo/titanal layup in three classic Wrenegade shapes you know and love - it's got enough damping to satisfy even the hardest charging human missile. Built to take a beating, our Ti skis have full length carbon fiber stringers, bamboo/titanal cores, and UHMW sidewalls alongside the thickest bases & edges money can buy. Our Freeride Rocker profile improves float in soft snow, while the Bi-Radius sidecut ensures locked edge hold and intuitive control in firmer conditions.

Put simply, the Wrenegade 102 Ti is designed to crush variable hardpack with no remorse. Want to go faster? Go metal.
| Ht | Ht | FREESTYLE | FREERIDE | DIRECTIONAL |
| --- | --- | --- | --- | --- |
| 4'8" | 143 | 141 | - | - |
| 4'10" | 147 | 141-151 | - | - |
| 5'0" | 152 | 151 | | - |
| 5'2" | 158 | 151-161 | 162 | - |
| 5'4" | 163 | 161-166 | 162-167 | - |
| 5'6" | 168 | 161-171 | 167-172 | - |
| 5'8" | 173 | 171-181 | 172-182 | 174-184 |
| 5'10" | 178 | 176-186 | 177-187 | 179-189 |
| 6'0" | 183 | 186-191 | 187-192 | 184-193 |
| 6'2" | 188 | 191 | 192 | 189-193 |
| 6'4" | 193 | 191 | 192 | 189-193 |