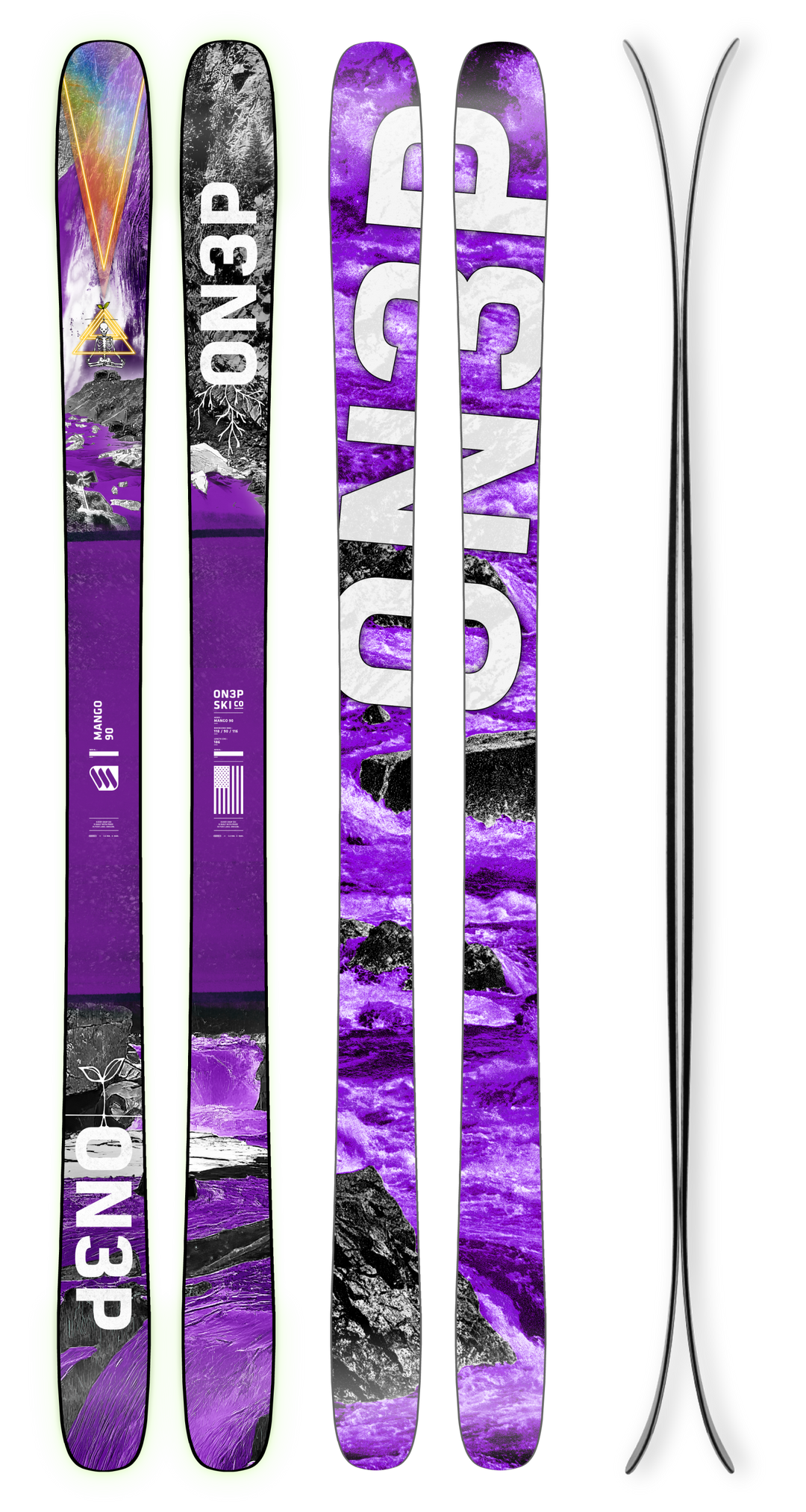 MANGO 90 LTD
---
Low stock - 8 items left

Inventory on the way
| SIZE | SPECS | TURN | EE | WT |
| --- | --- | --- | --- | --- |
| 161cm | 114/90/112 | 16.2m | 128.0 | 1.49 kg |
| 166cm | 115/90/113 | 16.7m | 132.0 | 1.56 kg |
| 171cm | 115/90/113 | 17.2m | 136.0 | 1.62 kg |
| 176cm | 116/90/114 | 17.7m | 140.0 | 1.71 kg |
| 181cm | 117/90/115 | 18.3m | 144.0 | 1.79 kg |
| 186cm | 118/90/116 | 18.8m | 148.0 | 1.88 kg  |
First edition Mangos went so fast, we had to press a limited edition restock: MANGO LTD
Built on the Mango series as three pro models (90/100/110), the Mango LTD is a light, earth, and aquatic vision from the most unique mind in skiing - Jake Mageau.
On the narrower side, the Mango 90 & 100 feature a newly modified tip taper that provides a lighter swing weight, tighter radius, and slightly rounder flex profile to match. Designed for the freestyle oriented skier who values both stability and liveliness, the Mango 90 & 100 are our best options for strong skiers who need a park weapon.
All widths are oriented on a close-to-center mount to keep the skis balanced on your feet, while their elliptical sidecut and ample rocker profile encourage a playful, buttery style. 
Featuring our custom 2800 hybrid fiberglass/carbon, our proprietary composites improve strength & durability while decreasing weight. Add a full ON3P Factory Tune, 100% bamboo core, full length UHMW sidewalls, alongside the thickest bases & edges in skiing, and you have the most versatile, well-built freestyle park ski on the market.

| Ht | Ht | FREESTYLE | FREERIDE | DIRECTIONAL |
| --- | --- | --- | --- | --- |
| 4'8" | 143 | 141 | - | - |
| 4'10" | 147 | 141-151 | - | - |
| 5'0" | 152 | 151 | | - |
| 5'2" | 158 | 151-161 | 162 | - |
| 5'4" | 163 | 161-166 | 162-167 | - |
| 5'6" | 168 | 161-171 | 167-172 | - |
| 5'8" | 173 | 171-181 | 172-182 | 174-184 |
| 5'10" | 178 | 176-186 | 177-187 | 179-189 |
| 6'0" | 183 | 186-191 | 187-192 | 184-193 |
| 6'2" | 188 | 191 | 192 | 189-193 |
| 6'4" | 193 | 191 | 192 | 189-193 |