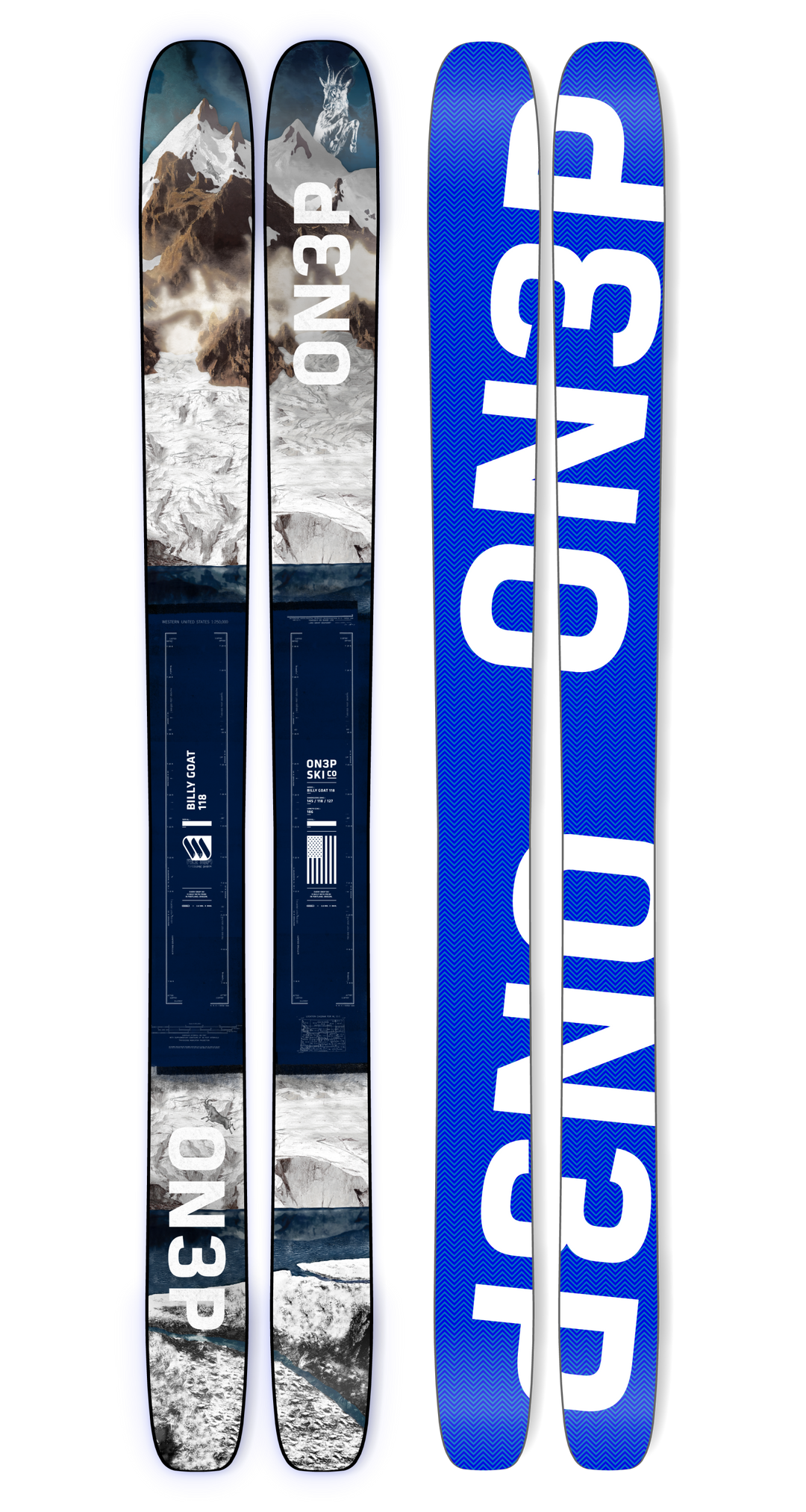 BILLY GOAT 118
---
In stock, ready to ship

Inventory on the way
| SIZE | SPECS | TURN | EE | WT |
| --- | --- | --- | --- | --- |
| 176cm | 143/118/126 | 27.8m | 132.5 | 2.16 kg |
| 181cm | 144/118/127 | 28.4m | 137.0 | 2.22 kg |
| 186cm | 145/118/127 | 29.0m | 141.5 | 2.32 kg |
| 191cm | 146/118/128 | 29.6m | 146.0 | 2.43 kg |
Ship dates coming soon.

The Billy Goat 118 always finds its way. For 2024, we've extended our trademark RES into the tips for a less boxy, more drivable sidecut, capable of adjusting on-the-fly to pilot feedback. We also cinched some tail length, which allows for better mount proportions to drive into the forefoot, and improve responsiveness. We kept the flatter tail of its predecessor for strong tail support, and both lowered the camber and pushed its apex forward for a more predictable ride in the face of unpredictable terrain - the Billy Goat blurs the limits of line choice as far as you're willing to go.
As part of our three-ski freeride series, the Billy Goat shape has the ability to both drive and smear without tip-dive or dumping speed - if finding the fastest way down on a powder day is your goal, then the BG is your ski. Featuring our custom 2800 hybrid fiberglass/carbon composite, our 100% bamboo cores, full length UHMW sidewalls, and the thickest bases & edges money can buy, the Billy Goat is a durable and versatile platform for strong skiers who value speed and stability in all soft snow pursuits.  

| Ht | Ht | FREESTYLE | FREERIDE | DIRECTIONAL |
| --- | --- | --- | --- | --- |
| 4'8" | 143 | 141 | - | - |
| 4'10" | 147 | 141-151 | - | - |
| 5'0" | 152 | 151 | | - |
| 5'2" | 158 | 151-161 | 162 | - |
| 5'4" | 163 | 161-166 | 162-167 | - |
| 5'6" | 168 | 161-171 | 167-172 | - |
| 5'8" | 173 | 171-181 | 172-182 | 174-184 |
| 5'10" | 178 | 176-186 | 177-187 | 179-189 |
| 6'0" | 183 | 186-191 | 187-192 | 184-193 |
| 6'2" | 188 | 191 | 192 | 189-193 |
| 6'4" | 193 | 191 | 192 | 189-193 |