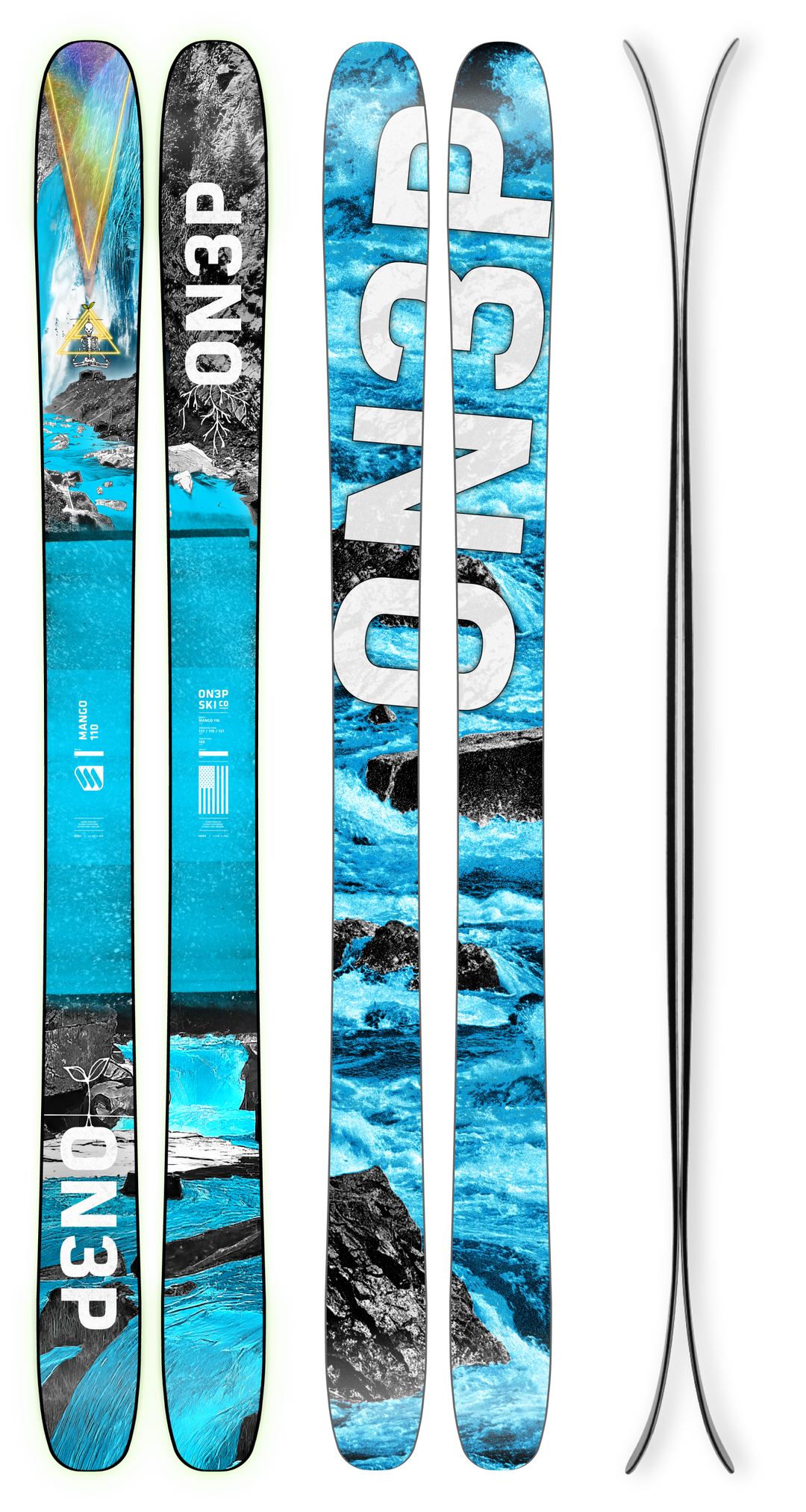 MANGO 110 LTD
---
Low stock - 2 items left

Inventory on the way
| SIZE | SPECS | TURN | EE | WT |
| --- | --- | --- | --- | --- |
| 171cm | 134/110/128 | 19.1m | 129.0 | 1.86 kg |
| 176cm | 135/110/129 | 19.8m | 135.5 | 1.94 kg |
| 181cm | 136/110/130 | 20.5m | 138.0 | 2.05 kg |
| 186cm | 137/110/131 | 21.1m | 142.5 | 2.11 kg |

First edition Mangos went so fast, we had to press a limited edition restock: MANGO LTD
Built on the Mango series as three pro models (90/100/110), the Mango LTD is a light, earth, and aquatic vision from the most unique mind in skiing - Jake Mageau.
Evolved from a decade-plus of rockered park ski development, the Mango 110 is an all-new fat freestyle shape with a round flex profile, aggressive tip taper, and light swing weight designed for tight radius maneuverability. Designed for the freestyle oriented skier who values both stability and liveliness, the Mango 110 is the choice for progressive skiers who want a XXL park ski to power style over everything, everywhere.
All widths are oriented on a close-to-center mount to keep the skis balanced on your feet, while their elliptical sidecut and ample rocker profile encourage a playful, buttery style. 
Featuring our custom 2800 hybrid fiberglass/carbon, our proprietary composites improve strength & durability while decreasing weight. Add a full ON3P Factory Tune, 100% bamboo core, full length UHMW sidewalls, alongside the thickest bases & edges in skiing, and you have the most versatile, well-built freestyle park ski on the market.
| Ht | Ht | FREESTYLE | FREERIDE | DIRECTIONAL |
| --- | --- | --- | --- | --- |
| 4'8" | 143 | 141 | - | - |
| 4'10" | 147 | 141-151 | - | - |
| 5'0" | 152 | 151 | | - |
| 5'2" | 158 | 151-161 | 162 | - |
| 5'4" | 163 | 161-166 | 162-167 | - |
| 5'6" | 168 | 161-171 | 167-172 | - |
| 5'8" | 173 | 171-181 | 172-182 | 174-184 |
| 5'10" | 178 | 176-186 | 177-187 | 179-189 |
| 6'0" | 183 | 186-191 | 187-192 | 184-193 |
| 6'2" | 188 | 191 | 192 | 189-193 |
| 6'4" | 193 | 191 | 192 | 189-193 |